Under the Radar:Tips and Tools to Help You Decrease Labor Costs
Tip 1: Ctuit Schedules and On The Fly™
Spending too much time coordinating time off requests and employee shift swaps? The
Ctuit Schedules
mobile app allows employees to offer and pick up shifts, as well as request time off, all from their mobile device. Managers can approve requests and shift swaps using the
On The Fly
™ mobile app. No more wasted hours on the phone trying to get shifts covered means more time on the floor managing guest satisfaction.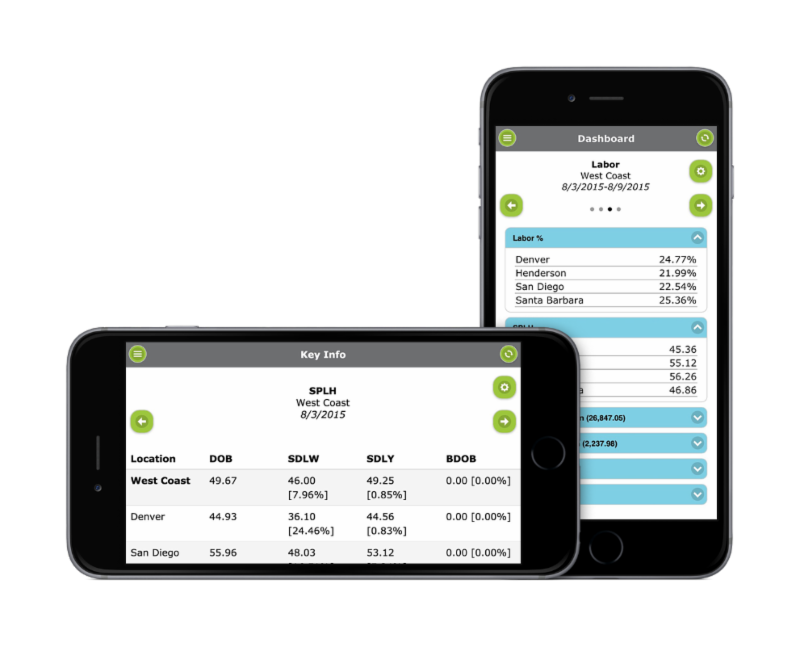 Tip 2: Job Counts Chart
Check out the Job Counts chart in the Labor Scheduling Module. You can view selected metrics like Sales and Guests compared to your Actual and Scheduled labor hours. The TheJob Counts Chart makes scheduling efficient, allowing you to minimize labor costs and maximize profit by providing insight into how you have scheduled employees during various stages of business productivity.
Tip 3: Labor Efficiency Potential Report
Want more detail on how overtime and break laws impact your bottom line? The Labor Efficiency Potential report will show you the labor percent you could have achieved had you replaced the overtime hours and meal break penalties with regular pay hours.
---
Old Venice Pizza Company

has so much more than just great pizza! Say ciao to your standard Italian fare. Old Venice Pizza Company is your
passport to a superior dining experience. Delivering upscale cuisine in an approachable way, Old Venice blends old-world sensibilities and Sothern hospitality with an energetic, modern style. Their wines are high quality, yet moderately priced. All menu items are made with only the best and freshest ingredients. And their new menu items are sure to please! Their gourmet pizzas are made with familiar as well as exotic ingredients and their service... well, stop by and find out for yourself at one of their 4 locations located in Tennessee and Mississippi.
Inspired by the lifestyle of the Rocky Mountains, where founder Chris Simms spent much of his childhood, Lazy Dog offers the perfect environment for a quick weeknight dinner, a meandering meal with old friends or a big night out. The first Lazy Dog restaurant opened in the Huntington Beach area in 2003 and showcased an eclectic menu of memorable family favorites reinterpreted with bold new flavors and served with small-town hospitality. Open daily for lunch and dinner with a full bar program that includes specialty cocktails and a wide selection of craft beers, Lazy Dog is also a perfect happy hour or game day destination. Lazy Dog currently has 16 locations in California and Nevada. For more information, visit
www.lazydogrestaurants.com
.
---
Fintech Partners with Ctuit to Improve Restaurant Operations
The Fintech/Ctuit collaboration will assist restaurant operators in streamlining invoice processing, automating payments for alcohol, and delivering data analysis reports to help restaurants make better purchasing decisions.
Fintech
is the leader in providing electronic data and payments to the alcohol industry. Working with over 2,400 distributors, their business processes alcohol invoices for more than 360,000 relationships nationwide and over $23 billion in payments annually.
---
Training Features
Ctuit has added more webinars to meet your busy schedule!
Check out General Training, Admin Training, Payroll Validation, User Manager and more.
Ctuit's Training Video collection continues to grow! Maximize your investment by utilizing free training videos, webinars and documents to provide in-depth knowledge to your new and existing users. Ctuit continues to offer ongoing training through Training Webinars, Videos and Help Files accessible through the Training Tab in the upper left corner of your database.
Featured Webinar
This quarter we are featuring Advanced Labor Scheduling and Ctuit Schedules.
The Labor Scheduling module is a one-stop solution for employee scheduling. It provides the tools and information necessary to help control labor costs and drive profitability by proactive scheduling and analysis of labor and sales data.
Ctuit Schedules
allows employees to add, drop or swap shifts, view schedules, message other employees and request time off. Ctuit clients utilizing their Labor Scheduling module can add the employee portal, giving their staff the convenience of receiving the schedules on their smartphone.
---
Relay For Life

This year, Ctuit was one of 29 teams and 206 participants at Relay For Life Novato who worked together to raise over $76,000 to help win the fight against cancer. Our team is dedicated to continuing to take action to help finish the fight. Learn more to see how you can make a difference with
Relay For Life
.
---
Volunteering in the Community
This year, Ctuit added a Volunteer Time Off and Donation Match Program for all of our full-time employees to give back to the community that we work, live and play in. Volunteering with schools, nonprofit organizations, foster children and public service projects such as clean up days, are just a few examples of the types of projects that our team members are excited to participate in!
Songbird Clinic
One of our team members worked weekly with the Wildlife Rescue Center of Napa County to rehabilitate various species of songbirds.
The Wildlife Rescue Center
depends of over 100 volunteers working 14 hours a day, 7 days a week to operate their satellite songbird clinic.
California Valley Fire
The Valley Fire started September 12, 2015 at 1:24 pm. Exacerbated by California's severe drought, it destroyed over 1,000 residences and threatened thousands more, causing evacuations in Lake, Napa and Sonoma Counties. One of our team members used her VTO and restaurant experience to help organize and inventory food donations to the Napa County Fairgrounds where over 1,000 evacuees were staying. Get more information, see how you can help, or make a donation at the
American Red Cross
.
Each month, we receive many feature requests from our clients. We take every request into consideration and work hard to accommodate your specific needs. Here are some feature requests we have implemented this past quarter.
THE PROBLEM: When configuring or viewing the Ops Statement, there was only a single configuration available. This configuration could only be altered globally.
THE SOLUTION: We added the ability to create up to 10 unique configurations accessible from Manage Configurations under the Ops Statement Setup. Any of the new configurations created for the Ops Statement or Daily Ops can be selected when running the associated reports.
THE PROBLEM: On the Labor Scheduling Roster Report, the established filter only displayed punches within a +/- 1 hour window and could not be altered.

THE SOLUTION: We added a Step 3 option for the Labor Scheduling Roster Report to enter an amount under "Match Shifts Within X Minutes:" with a default of 60 minutes and the ability to override with a larger or smaller window of time.
THE PROBLEM: When an employee submitted a time off request for companies utilizing Ctuit Schedules, if the request was approved there was no notification of which manager approved the request.

THE SOLUTION: We added the notification of manager approvals for "Time Off Status Change" and a column has been added for locations whitelisted for Ctuit Schedules that displays "Approved By."
THE PROBLEM:
When in the InventoryModule and using theTransfer Storage Location Items option, a user needed to be given access to Inventory Setup.

THE SOLUTION: We moved the Transfer Storage Location Items out to the standard Inventory menu under Storage Locations, with a specific Can Access Transfer Storage Location Items permission available. The users set up with the Access Inventory Setup permissions still have access by default and do not need the new permission set.
Thanks for your input!